Pipeline and Civil have extensive experience installing and welding concrete lined steel pipes from 2000mm diameter to 100mm diameter.
Quality control, certified inspection, trained staff and attention to detail are key to installing steel pipe that will last for its full design life.
Components of a quality installation include; inspecting the condition of the supplied pipe and making any repairs, certifying the application of the coating system, using experienced and qualified welders, third party testing of welds, using trained and experienced wrappers with a high-quality tape coat system and third-party cathodic protection testing before resealing of the road.
Experienced and qualified welders
Experienced and trained wrappers including wrapping peel test equipment.
Various welding and ancillary equipment associated with steel pipe installation
This project invlved laying and welding 2500m of 508 NB concrete lined steel pipe, mainly through busy level 2 roads and major signalled and roundabout intersections on the Northshore, from Albany Reservoir to Pinehill Reservoir and impacted on New Zealand's largest school, Rangitoto College. This required careful planning and management to minimise the impact on traffic, especially where the pipeline crossed each intersection along East Coast Bays Road. Our client benefited from our constructability advice through better pipe alignments which avoided services and reduced the impact on traffic. The works involved installation of various air, scour and line val
ves and service relocations.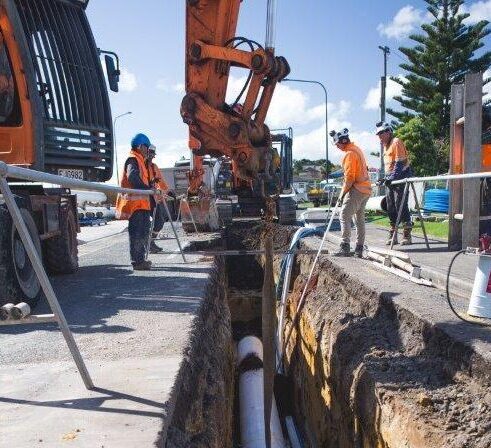 Due to the immediate need to increase water supply capacity to Auckland this project involved constructing 730m 586 OD CLS watermain from the treated water tanks at Hays Creek WTP to connect to the existing Papakura No. 2 Watermain in a busy narrow arterial road. This work was carried out for Fletcher as part of the expediated works at Papakura to increase water supply to Auckland as part of the drought.