Service Location and Constructability Advice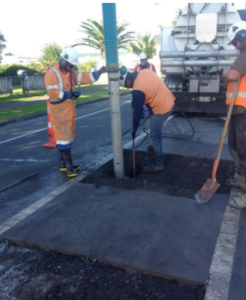 Clients can benefit from our extensive experience in service location including planning and optimising the services piloting plan. Based on the available service location information we can provide constructability advice, optimising the design alignment, taking into consideration traffic management impacts and service location constraints.  Our clients can benefit from the consistency of a one stop shop, from planning service investigation through to alignment design and construction.
Service location prior to construction allows optimisation of pipeline alignment, programming of works and planning of temporary works around services. Careful planning around services reduces the risk of cable strike and improves H&S planning. Our clients can use the services information we provide to optimise designs and reduce risk of contract variations. 
Pipeline and Civil have extensive experience locating services on our own construction contracts as well as providing this service for other clients. To locate services, we use a combination of our own locator equipment and trained staff as well as hired GPR and scanning services. After obtaining close approach permits where necessary, high risk services such as power, gas and fibre optics are exposed using hydro-excavation. Low risk services may be exposed by hand-excavation. We use Topcon GPS survey equipment and dumpy levels to measure and record the levels and position of services to allow the design alignment to be checked and to help us plan our temporary works.
We will attend site with the service provider locator to ensure the quality of investigation. In our experience the quality of the location services provided can be variable.
Visual inspection and use of engineering judgment can be an important component in identifying unmarked services. For example, checking for chambers, gullies, culverts not shown on plans and confirming connections by CCTV if required.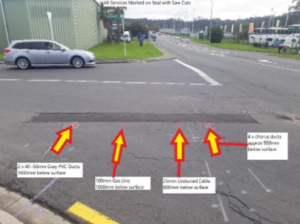 Planning and approval of traffic management plans is an important factor in carrying out service investigation. We are experienced in planning works to minimise traffic impacts and carrying out night works.
A service investigation report can be provided with plans, photos and descriptions of the services located, including cross sections and notes on any expected services that were unable to be located. We are able to provide design optioneering services which consider the practicalities of; services clashes, trench depth, trench support around services and traffic management.
Site engineers, supervisors and leading hands experienced in service investigations

Traffic management, STMS and traffic controllers

Range of equipment and location devices
Track Record