Polyethylene Pipe Butt and Electrofusion Welding
Pipeline and Civil have thousands of hours of PE welding experience, from 1000 OD pipes down to 125 OD in both butt welding and electrofusion couplers. 
We can manufacture and install mitred bends and help solve problems around services, temporary works and other constraints.
Providing evidence of qualification of welders, test welds, calibration certificates and QA for each weld is a vital part of the PE welding process. We understand that quality assurance documentation is essential for delivering a consistent, quality product. We also understand our role in helping our clients demonstrate the technical requirements of the project have been fulfilled. 
Pipeline and Civil welders excel in the level of care they extend to each weld they perform. They work hard to maintain their reputation as quality installers of PE pipe.
CNC1000mm Butt Welder (710 OD to 1000 OD)
CNC800mm Butt Welder (710 OD to 800 OD)
CNC630mm Butt Welder (355 OD to 630 OD)
CNC315mm Butt Welder (125 OD to 315 OD)
Electrofusion Welder HST300 (Three units available to weld all sizes)
Butt welding and EF welding staff- externally trained and qualified by Opus International Consultants
A range of specialised cutting, trimming and re-rounding equipment.
GPS for weld mapping.
Fletcher Construction engaged Pipeline & Civil as a subcontractor to deliver the open cut trenching sections of the DN710 HDPE SDR13.6 rising main pipeline from Greenhithe to Rosedale in North Auckland. 
The 7km long section of the rising main was constructed in a wide variety of conditions, from greenfield to a service congested concrete highway. Some sections were laid as 45m pipe strings, welded above ground and lifted into place to be welded in trench. In others area, short sections of pipe and mitre bends were welded in trench to accommodate direction change, services and temporary works. During construction of a 50m pipe bridge, short lengths of pipe were welded together and plastic spacers fitted as the pipe string was pulled through with a winch.
For the Northern Interceptor project, we created a weld map to record the serial number of each pipe at each weld. Approximately 750 welds will be undertaken on the project plus another 46 test welds. 7 staff were qualified to undertake butt welding on Northern Interceptor and 3 staff qualified to do large diameter EF welding.
The project also included welding of stub flanges and the installation of ductile iron fittings at air valve and scour valve chambers.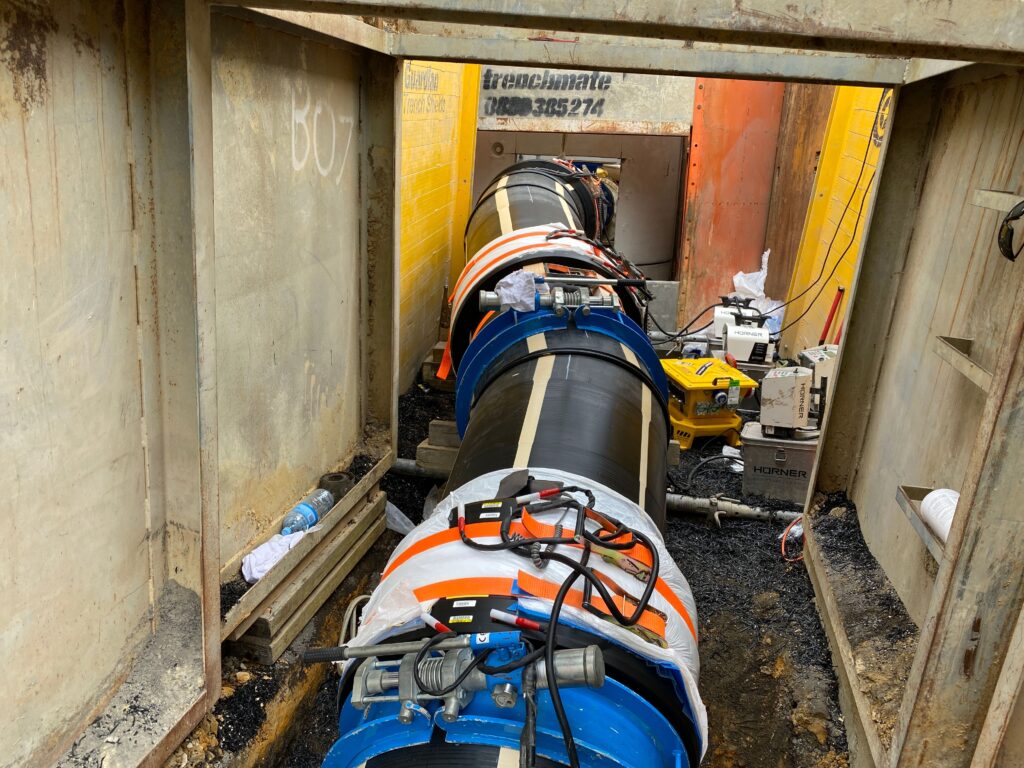 Pipeline and Civil were engaged to install an HDPE water network within a residential development in Hobsonville Point. The work included;
Installation of 4.5km of HDPE water pipe in diameters 63 OD, 125 OD, 180 OD and 250 OD in trenches excavated by others. Pipeline and Civil completed all welding of the pipes onsite using a combination of butt welding and EF welding. 

Installation of ductile tees, hydrant and valves.

Installation of tapping bands from the pipes to individual future house lots.

Staged chlorination and pressure testing of the pipes.

Completion of connections from the existing watermain on Scott Road during a shutdown to liven water to the new subdivision.
Our client was able to benefit from the same high level of quality control and planning that we would apply to large diameter pipeline construction.