Planned Repairs, Maintenance and Renewals
Pipeline and Civil have undertaken many repair jobs on leaking, corroded or damaged sections of pipeline.
Whether the work is scheduled or if repairs must be undertaken under emergency conditions, the work will be completed with a high level of health and safety planning.
Pipeline and Civil can extend the life of assets, through x-ray and systems to provide cathodic protection of welds, rehabilitation work such as corrosion protection, painting and wrapping and changing bolts. Civil works may include repairing or replacing benching or risers in gravity manholes that have been damaged by hydrogen sulphide, replacing chamber covers and haunching or installing safety grilles.
Our clients can make savings by; effectively prioritising renewals, extending asset life through rehabilitation and using condition assessment to limit upgrades to only those assets they are shown to be in poor condition. Effective renewals and rehabilitation also reduce risk of asset failure allowing the highest risk installations to be prioritised.
Pipeline & Civil prides itself on how we provide value engineering for our clients. We seek to fully understand the needs of our client, the impacts of the works on the system operation, why the works are required, what problems are currently being experienced, the proposed design life and the proposed maintenance programme. This allows us to assess opportunities for alternative methodologies, materials or processes.
Staff experienced in planning, measuring and installing mechanical pipework installations.
Staff experienced in condition assessment and rehabilitation of mechanical installations.
Specialised pipework tooling such as manual and hydraulic torque wrenches, pipe reamers, motorised de-beaders and cutting equipment, hydraulic rounding clamps etc.
This involved repair of a leak on the 813 OD Hunua No. 1 watermain in Ardmore. After isolation of the line, spearing and hand excavation was used to locate the leak on Hunua 1 and locate Hunua No. 2, running in parallel, to prevent damage.
After verifying the parent material was sound for welding onto, the area to be patched was confirmed with Watercare. The existing protecting coating was removed, steel patch welded in line with Watercare specification, primer, mastic and repair tape applied. We added value with our quick response while not compromising on H&S compliance and worked with the client to minimise the impact on the network.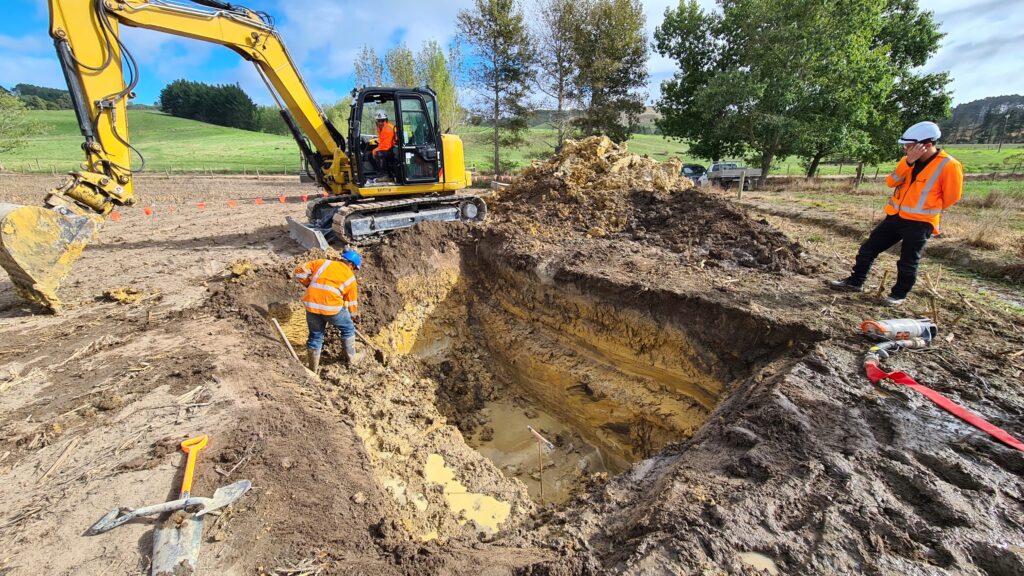 Design and construction of 131 wastewater projects in
cluding new pipe bridges up to DN600, rehabilitation of gravity sewers using spiral wound and CIPP lining methods, replacing rising mains up to DN560 and new gravity sewers up to DN450. We added value by taking responsibility for design consenting and construction.